Weather Information
Current Conditions
---
Weather Forecast for Champaign County
updated Saturday, September 20, 2014 - 4:36 AM
Today: Mostly sunny with a slight chance of showers and thunderstorms in the morning... then an increasing chance of rain by afternoon. High 82. Breezy at times, with gusts to around 25 mph.

Tonight: Showers and thunderstorms likely in the evening... those may continue into the overnight hours. Low 61.

Sunday: Mostly sunny. Cooler. High 72. Temperature falling into the 60s in the afternoon. Again, breezy --- Northwest winds up to 20 mph.

Sunday Night: Cooler. Mostly clear. Low 49.

Monday: Sunny. High 71.

Looking into next week: Mostly clear. Lows near 50. Highs in the mid to upper 70s.
---
National Weather Service
NWS Forecast for Champaign County
---
East Central Illinois Radar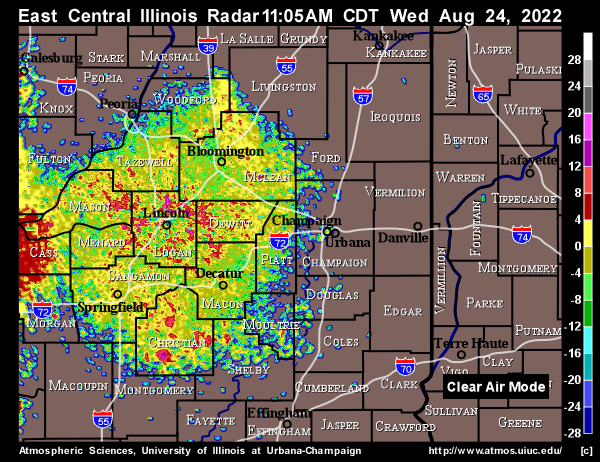 \\
---