Weather Information
Current Conditions
---
Weather Forecast for Champaign County
updated Saturday, November 22, 2014 - 5:22 AM
Today: Cloudy with scattered showers and patchy drizzle. Not as cool. High 52.
Tonight: 70% chance of showers. Low 45.
Sunday: Occasional showers. High 55. Breezy with gusts to around 25 mph.
Sunday Night: Occasional showers in the evening...then just a chance of showers after midnight. Low 38.
Monday: Windy.....cloudy. Chance of showers in the morning. High 42. Temperatures falling into the 30s in the afternoon. Winds 20 to 25 mph with gusts to around 35 mph.
Monday Night: Cloudy. Low 22.
Tuesday: partly sunny. Highs in the lower 30s.
Tuesday Night: Partly cloudy. Lows in the lower 20s.
Wednesday: Partly sunny. Highs in the upper 30s.
Wednesday Night: Mostly cloudy with a 30 percent chance of snow. Lows in the lower 20s.
---
National Weather Service
NWS Forecast for Champaign County
---
East Central Illinois Radar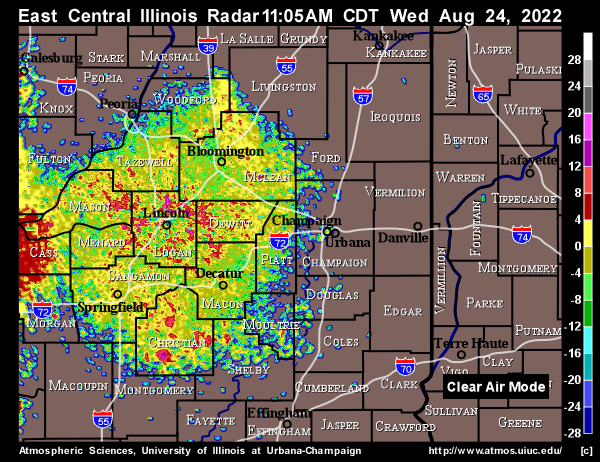 \\
---