Bibliotecas Pequeñas y Gratuitas les Proporcionan Libros a Niños Durante la Clausura de Escuelas y Bibliotecas
Con la clausura de las escuelas y bibliotecas públicas debido a la pandemia de COVID-19, las comunidades encuentran maneras de proporcionarles acceso a libros y otros materiales de lectura.
Alexa Valadez, estudiante del séptimo año en Urbana Middle School, ayuda a manejar una "biblioteca pequeña y gratuita" en su vecindad en el noreste de Urbana
Cualquier persona puede pedir prestado de la colección de libros para niños de todas edades, la cual, dice Valadez, se necesita aún más en este momento.
"Ahora que estamos en cuarentena… algunas personas se aburren de estar adentro," dice Valadez. "Así que pueden disfrutar de un buen libro."
Valadez se involucró con la biblioteca pequeña y gratuita hace dos años cuando Lucia Maldonado, la Intermediaria de Padres Latinx para el Distrito de Urbana School la invitó a participar.
Maldonado dice que la idea original fue facilitar el acceso a libros para los niños durante la clausura de escuelas.
"Durante el verano, sé que muchos inmigrantes y padres Latinx trabajan, y los estudiantes pasan mucho tiempo en casa," dice Maldonado.
"Quería asegurar que nuestros estudiantes tuvieran acceso a materiales de lectura, aún si sus padres trabajaran y no pudieran llevarlos a la biblioteca."
Para su primer proyecto de biblioteca pequeña y gratuita, Maldonado dice que eligió un lugar en Ivanhoe Drive en el noreste de Urbana porque muchas de las familias Latinx del distrito viven allí.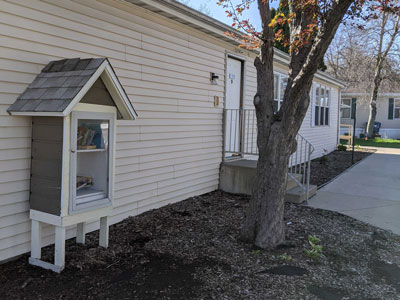 Ahora está aumentando los esfuerzos para crear tres nuevas bibliotecas pequeñas en las vecindades con altos números de estudiantes Latinx: Northwood y Woodland Acres en Urbana y Shadowwood en Champaign.
El propósito es que los proyectos sean un esfuerzo comunitario, dice Maldonado. Varios miembros de la comunidad que trabajan con la construcción ya se han puesto de acuerdo a ayudar con proporcionar materiales.
"Mi esperanza es que podamos encontrar a un/a estudiante en cada vecindad para ser la bibliotecaria de la comunidad," dice Maldonado.
Valadez says when she sees kids coming to borrow books from the little free library on her street, it makes her feel good about the way she's helping her community.
Valadez dice que cuando observa que los niños vienen a pedir prestado libros de la biblioteca pequeña y gratuita en su calle, le hace sentir bien sobre la manera en que le está ayudando a su comunidad.
"Me siento feliz porque aprecian mi trabajo," dice ella.
"Los libros más populares entre los niños en su vecindad con los libros infantiles y las novelas gráficas. Valadez dice que los niños aprecian tener libros en ambos español e inglés.
Maldonado dice las bibliotecas pequeñas y gratuitas son particularmente importantes ahora que las escuelas se han cerrado para el resto del año académico.
"Tener un lugar centralizado para que los niños puedan conseguir materiales de lectura hará una diferencia, en particular para los que no tienen acceso a internet en casa," dice ella. "Creo que es una manera perfecta de mantener su participación y compromiso."
Maldonado dice que ella también usa las bibliotecas pequeñas y gratuitas para distribuir información de las escuelas a los padres, y además asegurar que estén informados sobre los recursos comunitarios para la asistencia médica y la información proporcionada de los consulados de México y Guatemala cuando visitan a Champaign-Urbana.
Todavía se están resolviendo los detalles para la creación de lugares adicionales para bibliotecas pequeñas en Champaign-Urbana.
Maldonado dice que se puede contactarla si tiene interés en donar libros u otros materiales en lmaldonado@usd116.org.
Sigue a Christine en Twitter: @CTHerman
Translation by Leigh Rysko through a partnership with America Amplified. If you have any questions or concerns about this translation, please email jennifer@americaamplified.org.
Traducido por Leigh Rysko en colaboración con America Amplified. Si tiene alguna pregunta o inquietud sobre la traducción, favor de comunicarse por correo electrónico con Jennifer@americaamplified.org.
Story source: Illinois Newsroom