Champaign-Urbana High School Students Lead Protest For Racial Justice
Editor's note: This story was reported by University of Illinois journalism student Farrah Anderson, with coverage coordinated by College Of Media journalism professor Chris Evans and professional journalists at Illinois Public Media.
CHAMPAIGN – Between chants of "say their names," protestors holding cardboard signs wound through the streets of Champaign Saturday.
In response, the names of Daunte Wright and Adam Toledo echoed through the streets.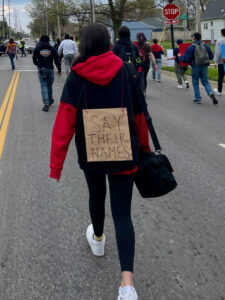 Spurred by last week's killing by police of two people of color in Brooklyn Center, Minnesota, and Chicago, the protest was organized by the Involvement Youth Activist Network, or I.Y.A.N., to protest the killings of 20-year-old Wright and 13-year-old Toledo.
Local high school students said they formed the group this month in Champaign.
"We're devastated," Sydnie Williams, a junior at Central High School, said. "If there was a better time to come out, it would be now."
Williams, a co-founder of I.Y.A.N., said this was the group's first event.
The march started at Beardsley Park in Champaign, which Williams said is home to many people of color.
Despite the community's cries for help, she said white people tend to overlook it.
"These are communities that are impoverished and have a large community of marginalized groups," Williams said. "We want to bring attention to areas that people don't care about."
The student-led group will hold more events protesting for racial justice this summer, she said.
"No mothers should have to bury their child," said Drake Materre, a University of Illinois grad and activist who attended the march. "Especially due to state-sanctioned violence."
Materre spoke at the intersection of Eureka and Fifth streets, which was one of many intersections the protest shut down.
Several protestors called for the conviction of Minneapolis police offcer Derek Chauvin, who is on trial for last summer's killing of George Floyd.
Materre said recent events highlight the need for systemic change.
"When George Floyd was killed, it was about bringing awareness to police brutality," he said. "With Adam Toledo, it's no longer about bringing awareness.
"It's about dismantling the structures of oppression."