Drag Performers Embrace Virtual Shows Amid Pandemic
URBANA – In a small room on the second floor of local drag king Spank Knightly's house lies a homemade production space.
It includes a green screen, lights clamped onto broomsticks that are taped onto chairs, and a prop he calls a "bleeding canvas" because it turns red when it comes in contact with water.
Listen to this story here.
"It's nice and creepy," he said of the canvas. "It's one of my favorite little props I got to make."
With this small production space, he's able to make movie-like drag performances that stream on platforms like Twitch, Facebook Live and TikTok.
And he's not the only drag performer to adapt to this outlet. As the pandemic made it more difficult for drag shows to take place, it forced many kings and queens to switch to a virtual platform, said local drag queen Ceduxion Carrington, who's been performing for about 26 years.
"Coronavirus affected me in the sense that I'm not necessarily a virtual performer, but I kind of had to be," Carrington said.
It's a different experience from in-person shows, which rely heavily on audience interaction. But Knightly said he enjoys the virtual platform because it's more accessible to people with mobility issues. He's also able to add captions to his videos.
Additionally, he uses more effects that he's not able to use in person. The green screen allows him to incorporate a variety of backgrounds, like one where his head floats off into space while lip-syncing to an eerie rendition of "Rocketman" or another where he plays the role of the moon in "Dancing in the Moonlight."
He said he had to reintroduce himself to video editing skills on Adobe Premiere Pro, which he hasn't used since high school. While he gets some help from his spouse and housemates, he said most of the creation, look, filmmaking and editing is done by him.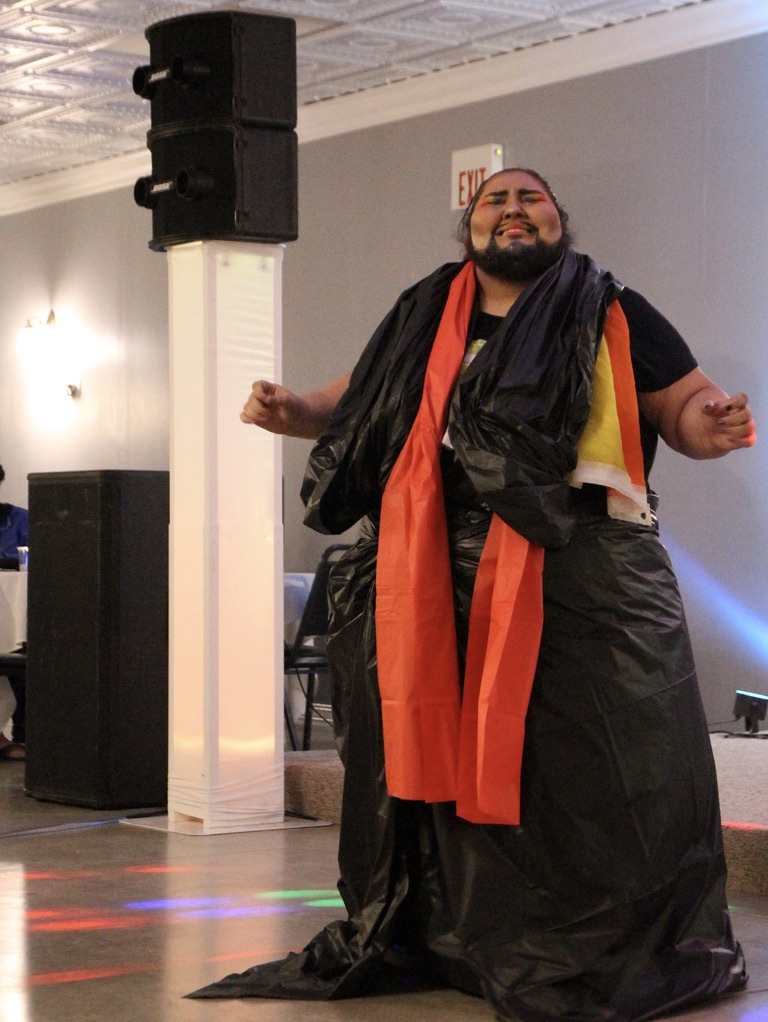 Local drag king Xavi Cado (who came up with his name due to his love for avocados) also switched to online performances, although he's also done some in-person shows. What he loves about the virtual platform is that he can perform just about anywhere, he said.
"JCPenny dressing room, let me just throw on an outfit, just do a quick little number in the dressing room," Cado said. "Or chilling in the Walmart parking lot, let me do a quick number here."
Carrington said the virtual platform increased the performers' use of props and backdrops.
"A part of drag is the allure," she said. "If you perform in front of a kitchen table, there's no allure there. Virtual drag has definitely made queens look at it from a different perspective and it probably enhances their performance as well."
Carrington said performers can also send videos of their previous in-person shows to be streamed online.
But although the virtual platform increased during the pandemic, in-person shows are still happening, like one recently in Clinton, Cado's hometown. He said it was the first drag show to ever take place in the town.
Carrington said the rules of these in-person shows vary based on the venue. Some have rules about wearing masks and restrict the audience from approaching performers for tips. Some, however, have looser restrictions, like at the show in Clinton where masks were generally not worn and the performers could interact with the crowd.
"You just have to be prepared for what you walk into because you don't know what the situation is going to be," Carrington said.
But because make-up is an integral part of drag performances, Carrington said performers typically wear clear masks or face shields when they're required to so the audience can still see their faces.
The pandemic also posed challenges financially for some performers, especially the ones who do it full-time, Carrington said. Many venues have lower capacity rates, leading to less tip money.
Knightly said he gets some tips from the online platform, but not as much as he did in person.
"If I was performing live, let's say to an audience where there were 100 people, I would probably get at least $30 to $50 in tip. That would be on a rough night," Knightly said. "Now let's say on an online show, there would be 200 people watching. Probably the most I would make in tips would be $30."
But in doing these online shows, Knightly said he's increased his fan base, even receiving a little bit of fan art. One of those fans is Jacki Linja, a graphic designer and fan of drag based in Washington state. She frequently draws drag performers and said she found Knightly on TikTok.
"Just as soon as I saw his painted face, I was like 'Oh my gosh, I really want to draw this person, this is so amazing,'" Linja said.
Linja typically goes to drag shows several times a month but is now streaming them weekly from home. Although she misses being at shows in person, she said she makes the most out of watching from online.
"I'll turn off all my lights and make myself a drink. I'm like, "Yes, it's like I'm there, but not really,'" she said. "It's amazing what drag performers do for us and to entertain us and I can't be more thankful for all of them."
Knightly and Cado said they both plan on continuing the virtual shows even after the pandemic is over.
"The whole world is my stage now and I can do whatever I want, no one can stop me," Cado said with a laugh. "You'll see a lot of Xavi Cado out there."