New Awakenings with Dr. Barrington Coleman
We caught up with Dr. Barrington Coleman, Associate Professor of Voice and Director of Vocal Jazz Studies at the University of Illinois, ahead of an upcoming Prairie Fire short and radio interview with legendary jazz bassist Christian McBride. In May 2022, Dr. Coleman brought McBride to campus as part of his "New Awakenings" concert series. While on campus, McBride gave masterclasses and performed his work The Movement Revisited: A Musical Portrait of Four Icons with student musicians and community members.
Many Illinois Public Media listeners will know McBride as the host of NPR's Jazz Night in America, which airs weekly on WILL FM-90.9. IPM's Brian Moline sat down with the eight-time Grammy Award winner for an hour-long interview on McBride's life in music. Getting to It: The Jazz Life of Christian McBride first airs at 11 a.m. on Friday, April 21, on WILL-AM, with repeat airings on WILL-AM and FM throughout the following week.
Then, in the first release from our newly revamped series Prairie Fire, we get a behind-the-scenes look at McBride's visit to campus. WILL-TV viewers can watch the premiere of this Prairie Fire short at 7 p.m. on Thursday, April 20. You can also stream it any time after April 20 at will.illinois.edu/prairiefire, starting that same day.
In anticipation of these exciting specials, we met with Dr. Coleman to learn how this collaboration came to be and what future New Awakenings projects are in the works.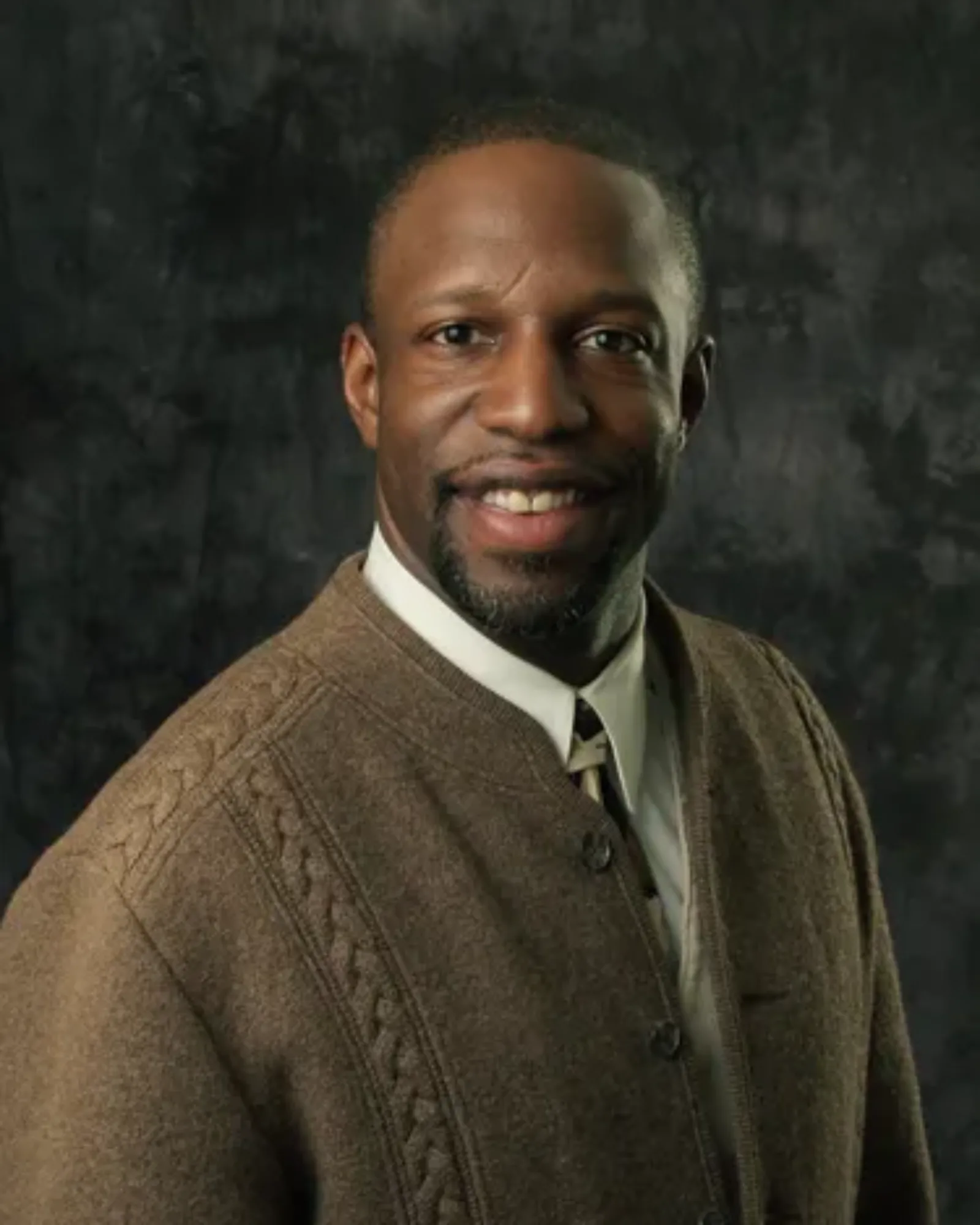 Coleman met McBride while at Julliard in the early 1990s. Coleman was pursuing his doctorate at the time and was a teacher's assistant in the music theory department, where he taught theory and aural skills (or ear training). "Christian was one of the students in several of my sections that I taught, along with Audra McDonald, who was his class," he explained. After class, McBride would ask him how aural skills and sight-singing related to his work as a jazz musician. They would then go to a practice room to sing pop, jazz, and R&B songs in solfège and improvise.
Even as a student, Coleman notes that McBride was curious, humble, engaging, and inviting. "He was always one-of-a-kind in terms of his connectivity with his instrument. But as a person, he was so grounded, so down to earth, and he always had room for everybody else," Coleman recalled. "His approach to everything was so collaborative." It is because of these qualities that Coleman reached out to McBride for the New Awakenings project, as this attitude makes him both a wonderful musician and a phenomenal teacher.
Though they had periodically stayed in touch over the years since Julliard, they hadn't had a chance to work together since. When McBride arrived on campus last spring, Coleman said, "It was just a pleasure to have him come back. He was the same dear soul." During his time in Champaign-Urbana, McBride led several masterclasses with students from the School of Music, where he not only imparted his musical knowledge but also gave sound career and life advice.
When asked in a masterclass how he chooses musical collaborators, McBride said he looks for the quality of the person above all else. After working in a highly competitive environment with the biggest names in jazz throughout his career, Coleman said that McBride now valued being around people "who have a heart for the things that really matter. Because in the long run, your talent, your voice—whatever that voice is artistically—makes a huge difference. But the thing that is longer lasting is the legacy of your soul...And I thought, well, that describes Christian." This approach resonated with the students. "I think they all were really captured by his willingness to communicate and invite everyone in."
This collaborative spirit was exemplified in the final concert of McBride's work The Movement Revisited: A Musical Portrait of Four Icons, which centers on four figures from the civil rights movement: Rosa Parks, Malcolm X, Muhammed Ali, and Dr. Martin Luther King, Jr. Unlike other big names who often prefer to bring their own musicians, McBride wanted to include the students in this performance. He brought in a few key players from his band, such as the pianist, drummer, and some horn players, but mixed them with soloists from the School of Music's Concert Jazz Band.
Coleman was tasked with putting together the choir and scoring their music since it had not yet been notated. The 75-person choir was composed of the Varsity Men's Glee Club, which Coleman directs, as well as singers from the Women's Glee Club, Chamber Singers, University of Illinois Oratorio Society, and local church choirs. Alumni actors provided the narrations, and local clergy were also involved. "It was about as diverse as you can get," Coleman said.
"I think our students were inspired by the fact, first, that Christian would have the vision to…bring such an eclectic group together, and then be willing to listen to them," Coleman noted. McBride stressed the importance of listening, which is a fundamental aspect of jazz in particular. Jazz is an oral tradition that is constantly changing and evolving, so what you do today will not be the same as what you do tomorrow. This is why McBride was so intent on listening to the students—so he could learn from them.
"I think my students were blown away by that," Coleman said. He explained how McBride would ask students to sing or play for him so he could learn what they just did and figure it out for himself. "That's such an infectious thing. So, I'm trying to hold on to that same approach here."
McBride's residency and the community-wide involvement in The Movement Revisited exemplified the goals of Dr. Coleman's New Awakenings series. He describes New Awakenings as "a celebration of human dignity, an art that brings us together." The idea for the concert series arose out of the isolation of the pandemic as well as the divisions that came to the forefront of our national consciousness in the wake of the murder of George Floyd. In light of these physical and ideological barriers that further separated us, Coleman thought, "What would happen if I just radically did something that was totally opposite and bound people in situations that demanded that everybody have a voice?"
The first New Awakenings concert, held in April 2022, featured Joel Thompson's Seven Last Words of the Unarmed. The poweful cantata takes its text from the final words uttered by seven Black men killed by police and other vigilantes: Kenneth Chamberlain, Trayvon Martin, Amadou Diallo, Michael Brown, Oscar Grant, John Crawford, and Eric Garner. Programing McBride's work for New Awakenings II the following month provided a contrast and diversity not only in compositional style but also in its approach "So [Seven Last Words] was a great success and was very poignant," Coleman said. "And I felt I didn't want to give that up. I felt like no, that's one aspect of that message. But then there has to be something of hope. There has to be something that guides us through what matters—what's important. So I started to just simply look up works that had that element of hope and freedom and desire to make it through to the other side of struggle. And I came across The Movement Revisited."
New Awakenings III, the third installment of the series, comes this fall. The concert promises to be just as eclectic an assortment of collaborators and just as monumental an undertaking as the concert with McBride. The program, which will take place at the Krannert Center for the Performing Arts on November 5, will center on the large-scale works of Duke Ellington. The first half will feature Ellington's ballet The River. Dr. Carolyn Watson will prepare the orchestra, and Dr. Kemal Nance will choreograph the dancers, who will be drawn from the Department of Dance and local church worship teams.
Music from Ellington's Sacred Concerts will comprise the second half, which will bring together a big band, gospel jazz choir, narration, and tap dancing. "Now, most folks know Ellington—at least they would want to pigeonhole him—as this jazz icon," Coleman explained, "but he was trying to say, my music and my purpose is much bigger than that. It's much more inclusive. So, this was his feeling of taking jazz into the church. And back then that was considered taboo."
Fortunately, you don't have to wait until November to hear Dr. Coleman or his students perform. On Saturday, April 1, you can catch the Varsity Men's Glee Club in concert at the Krannert Center. Fresh off their tour of Michigan and the Chicago suburbs, Men's Glee will sing excerpts from Carl Orff's Carmina Burana as well as works by contemporary composer David Conte.
Later in the month, Dr. Coleman is leading a Vocal and Choral Jazz Summit featuring Jazz Studies solo artists, Vocal Jazz Combos I and II, the Jazz Vocal Ensemble, and three recent alumni as guest clinicians, including Dr. Coleman's son, Crofton Coleman. The weekend will conclude with a Vocal Jazz Faculty Recital featuring Professors Barrington Coleman and John "Chip" Stephens.
Finally, celebrate International Jazz Day on April 30 with Jazz Week at the Studio Theater. The jam-packed week of events, which runs April 25–May 3, will feature every jazz ensemble from the School of Music. The schedule of concerts can be found below, or go to Krannert's website for more information.
April 25, 7:30 – Jazz Combo Concert 1
April 27, 7:30 – Repertory Jazz Orchestra
April 28, 7:30 – Concert Band
April 29, 3:00 – Jazz Guitar Ensemble
April 29, 7:30 – Jazz Vocal Ensembles & Vocal Combos
April 30, 3:00 – Brazilian Jazz Ensemble
April 30, 7:30 – Latin Jazz Ensemble
May 2, 7:30 – Jazz Trombone Ensembles
May 3, 7:30 – Jazz Combo Concert 2